Testimony Between History and Memory
A new page for Testimony Between History and Memory
For over 25 years, the Auschwitz Foundation in Brussels has published its journal,
Testimony: Between History and Memory
, three times a year. From the beginning, the journal has taken part in contemporary debates on issues of history and memory, and it has done so in a fundamentally pluridisciplinary way.
We are now seeing the questions we have been raising for years expand, generating studies beyond the fields where they are traditionally recognized. Commemoration, tourism, education, museums, literature, cinema, theatre, and academia: memory and testimony are very much present in all of these domains. Words associated with memory and testimony (trauma,
nunca más
, grey zone, exile, apartheid, Auschwitz) permeate our cultural sphere, circulating throughout our everyday lives, instilling themselves in our minds and contributing to the construction of our world view.
That is why
Testimony
is undergoing a transformation. While remaining faithful to its primary missions, the journal has received fresh impetus to consider debates on memory and testimony from a new – critical – angle. The transformation will produce a unique hybrid journal, consisting of both academic and cultural sections. At the heart of each issue, you will find an academic dossier and a "miscellaneous" section that examines questions of interest in a variety of fields. These will be supplemented by cultural criticism and reviews of recent events and publications, a portfolio, and a memory laboratory. Indeed, the journal aims to be a critical laboratory where authors can explore and deconstruct commonplaces, clichés, and doxa regarding memory and testimony.
Finally, the journal has taken up an additional challenge: it will be published in two separate versions, one in French and English and another in Dutch and English. By taking a multilingual and multicultural approach, we wish to engage a wider audience. Furthermore, concepts and questions of memory and testimony "travel" and they can take on different meanings depending on the language used. The journal therefore wants to offer an experimental space where subjects can be tackled from various perspectives. In this project, the Auschwitz Foundation has found in Kazerne Dossin its ideal partner.
Do you wish to contribute or learn more about Testimony? Contact
Anneleen Spiessens
.
Subscribe here or order a copy!
No. 118 (September 2014): In the name of the victims. Dictatorship and State terror in Argentina, Chile and Uruguay (210 p.)
Table of contents and abstracts (Dutch/English, with 40% in English)

Table of contents and abstracts (French/English, with 15% in English)
Previous issues:
No. 117 (March 2014): Amis? Ennemis? Relations entre mémoires [Friends? Enemies? Relationships between memories]
Table of contents and abstracts available here
No. 116 (September 2013): Voyages mémoriels [Memorial visits]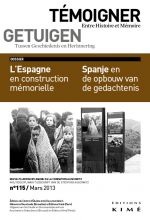 No. 115 (March 2013): L'Espagne en construction mémorielle [Spain going through memorial construction]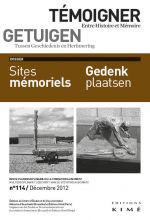 No. 114 (December 2012): Sites mémoriels [Memorial Sites]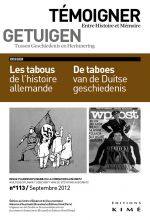 No. 113 (September 2012): Les tabous de l'histoire allemande [The Taboos of German History]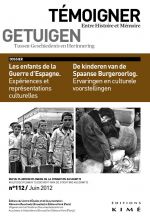 No. 112 (June 2012): Les enfants de la Guerre d'Espagne. Expériences et représentations culturelles [Children of the Spanish Civil War: Experiences and Cultural Representations]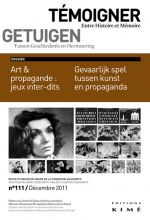 No. 111 (December 2011): Art & propagande : jeux inter-dits [Dangerous Game between Art and Propaganda]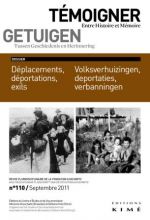 No. 110 (October 2011): Déplacements, déportations, exils [Displacements, Deportations, Exile]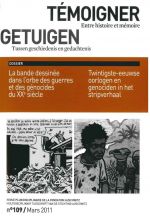 No. 109 (March 2011): La bande dessinée dans l'orbe des guerres et des génocides du XXe siècle [Twentieth Century Wars and Genocides as Portrayed in Graphic Novels and Comic Strips]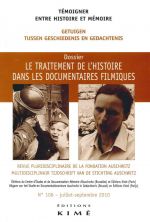 No. 108 (July-September 2010): Le traitement de l'histoire dans les documentaires filmiques [How Documentaries Handle History]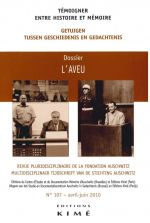 No. 107 (April-June 2010): L'Aveu [Avowal]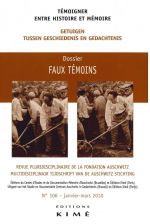 No. 106 (January-March 2010): Faux Témoins [False Witnesses]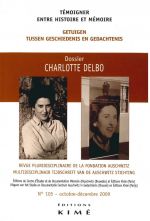 No. 105 (October-December 2009): Charlotte Delbo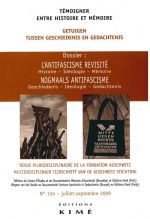 No. 104 (July-September 2009): L'Antifascisme revisité. Histoire – Idéologie – Mémoire [Anti-fascism Revisited: History, Ideology, Remembrance]
No. 103 (April-June 2009): Crimes et génocides nazis à l'écran [Nazi Crimes and Genocides on the Screen]
No. 102 (January-March 2009): Criminels politiques en représentation. Arts, cinéma, théâtre, littérature, médias [The Portrayal of Political Criminals in Films and Plays, in Literature and in the Media]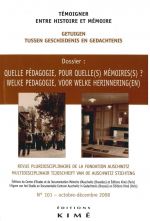 No. 101 (October-December 2008): Quelle pédagogie, pour quelle(s) mémoire(s) ? [How to Educate, How to Remember?]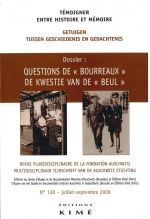 No. 100 (July-September 2008): Questions de « bourreaux » [Questions about the "Executioners"]
Contacts:
Auschwitz Foundation (Brussels):
+32 (0)2 512 79 98

Email
Éditions Kimé (Paris)
+33 (0)1 42 21 30 72
This email address is being protected from spambots. You need JavaScript enabled to view it.
Distribution: Les Belles Lettres
General President: Henri Goldberg
Editor in Chief: Philippe Mesnard
Editors: Anneleen Spiessens & Nathalie Peeters
Editorial Committee:
Daniel Acke (Belgium); Marnix Beyen (Belgium); Sonia Combe (France); Martin S. Ronald Commers (Belgium); Emmanuelle Danblon (Belgium); Sophie Ernst (France); Janos Frühling (Belgium); Carola Hähnel (Germany); Silvain Keuleers (Belgium); Fransiska Louwagie (Belgium); Philippe Mesnard (France); Didier Pollefeyt (Belgium); Lieven Saerens (Belgium); Frediano Sessi (Italy); Régine Waintrater (France); Jacques Walter (France).