Exhibition: "Belgium, 1914-1945: Witnesses in the Heart of the Storm"
Pdf of the exhibition (in French) (in Dutch)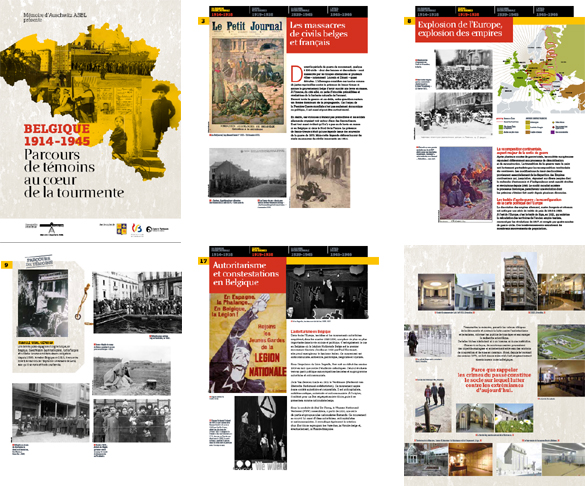 This is a traveling exhibition, presented in the form of 43 panels which are easy to transport and set up, and which may be accompanied by one or two screens connected to DVD players. It exists in two versions, one in French and one in Dutch.
The exhibition covers the period from the First World War to the liberation of the camps and the return from deportation between 1944 and 1946.  Its final section summarizes the development of the commemoration of the camps and of the Shoah, and raises questions regarding the transmission of these events.
Contents of the exhibition
A. Historical and cultural presentation
1914-1918: a reminder of events during the First World War which help to understand the genocides under Nazism (oppression of populations, "brutalization" of behavior, deportations, the genocide of the Armenians, etc.), with a particular focus on civilian populations and the considerable increase in violence during and after the war.
A presentation of European political and other events between the wars (the rise of Fascism in several countries, Hitler and the NSDAP in power), and of developments in Belgium during that period (the growth of Flemish nationalism and Rexism).
Population movements following the upheavals caused by the First World War (the dissolution of the Austro-Hungarian Empire), and the development of categories of refugees and stateless people (with reference to policies since the nineteenth century of control and repression of foreigners and non-sedentary communities such as the Gypsies).
The development of the Nazi concentration camp system from 1933 onwards (with a retrospective view of the very first concentration camps, created at the end of the nineteenth century) and their role in launching political repression (with a view of Stalin's concurrent Great Terror).
The situation in Belgium before and during the Second World War (repression, collaboration, deportation, forms of resistance).
The Third Reich's policy of extermination, with the mass killings on the Eastern Front and the killing centers established in Poland.
Nazi ideology: eugenics, Operation T4 (the extermination of those considered "unworthy of life"), racial selection, the obsession with death.
B. Testimonies
All the historical and cultural information displayed in the exhibition is accompanied by testimony given to our Foundation by those who lived through the events it describes.
Thus it constantly highlights the relationships between history, memory and cultural representations of the events it describes
The exhibition is designed for the general public, particularly the young.
Pdf of the exhibition (in French) (in Dutch)
Project Manager: Remembrance of Auschwitz
Organizer: Philippe Mesnard (Director of Remembrance of Auschwitz)
Assistant Organizer: Sarah Timperman
Academic Committee: Annette Becker (HAR, Nanterre Paris-Ouest and IUF), Jean-François Forges (Historian, Lyon), Alain Colignon (CEGES, the Centre for the Study and Documentation of War and Contemporary Society, Brussels) Jean-Philippe Schreiber (Brussels Free University, Inter-Disciplinary Center on Religions and Secularism), Laurence Van Ypersele (Catholic University of Louvain)
Graphics: Yann Collin
Reservations: Georges Boschloos (the exhibition is available in French and Dutch)
For any information, please contact Georges Boschloos at Remembrance of Auschwitz:
Tel.: +32 (0)2 512 79 98 – Fax: +32 (0)2 512 58 84 – Contact by e-mail